Printing Data Generating Technology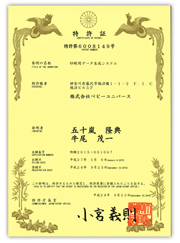 On September 23rd 2016, Baby Universe Inc. acquired a patent in Japan for its printing data generating technology.
Overview of the patent :
Technology to generate combined data of outline and graphics using advanced template system which works in relation with following elements :
Items that users can modify
Graphic layout rules
Outline data
Patent No. : 6008149
Thanks to this technology, time and labour to make printing data for apparel and packaging will be drastically reduced.
We will use this technology for developing more innovative products and services.